Hydro-acoustic measurements in the Potter Cove
As soon as the weather allows us to work, we will install our equipment for hydroacoustic measurements on the zodiac.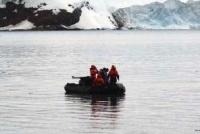 We are almost done with the work of the RoxAnn (seabed classification system) and the sidescan sonar.
The next step will be, to test the new winch in order to get sediment samples. We also start with subbottom profiling this week. First it was quite hard to work on a zodiac with computers, but slowly we get used to it. It is amazing how much everybody supports us but still there is lots of work to be done and the remaining time is melting as fast as the ice around us!