From Fairbanks (Alaska) to King George Island
11:45 p.m. (Oct. 13th): the taxi picks me up and brings me straight to the airport. Fairbanks already got its first snow and luckily the roads are fine and not slippery as in the mornings this week.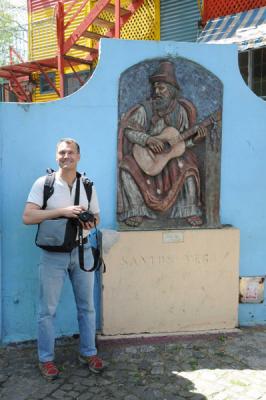 01:15 a.m. (Oct. 14th): my flight takes off and via Seattle and Dallas I make may way south to Buenos Aires in order to meet my colleague Ulrike Falk from Bonn and the other guys from AWI. Its nice to escape the beginning winter and dark in the Arctic and looking forward to more days of long sunlight. Of coarse the short stopover in Buenos Aires with meetings with our counterparts is a welcomed pause. The city has changed so much since I first visited it in 1992 - the complete harbor was remodeled and a new highly-priced living quarter has grown with a new skyline from the Rio de la Plata.
It is my 8th expedition to the Antarctic Peninsula after travels in 1994/95, 1995/96, 1997/98, 1999/2000, 2004/05, 2007/08, 2008, the 7th time I work on King George Island (KGI). It almost feels like going home. I have spent more time on KGI together than I lived at my new place in Fairbanks, where I moved to in March this year. On KGI, I always meet friends and known faces. After some visits one becomes part of the large family coming back every or every couple of years.
This time is particularly exciting as we start a new project, install new instruments and the interdisciplinary context is particularly nice and challenging. I am looking forward to practice my Spanish again. Its my first time I really work from Jubany/Dallmann - before we were hosted on Uruguayan and Russian bases or stayed in field camps on or near the glacier. A comfortable warm base is a luxury, but it eases work so much under the continuous dizzy rain near the freezing point and the never stopping wind. So let's cross fingers that all equipment is there and works.