First stage: Buenos Aires
Getting on the road with three big suitcases, one backpack, computer case, in total 90 kilos, is not easy, but it is suprising how much help you get when you're obviously not able to move otherwise ;-)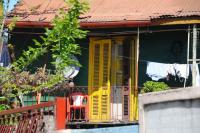 The flight with TAM airlines from Frankfurt, Germany via Sao Paolo to Buenos Aires, Argentina, was pretty smooth. Jetlagged and tired, I plunged into a Bolivian Carneval which happened to be all around the streets where my hotel was.
The taxi circled around the quarter for a while until we finally backed into the road in reverse since all streets around San Telmo, district of Buenos Aires, happen to be one-way only...
Meeting up with my colleague Matthias in the hotel we took the sunday to stroll over a flee market in San Telmo and to discuss work related strategies in several coffee breaks. A nice and smooth way to adjust to the foreign place and to do some catching-up.
We then also went to La Boca another district but a lot more touristy, which we also left very fast. But only after taking severable pictures of the remarkable facades which have a bit of a run-down charm that makes Buenos Aires the fascinating city by its reputation. So far, I can only approve!!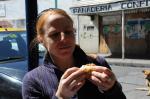 And to compensate for the strenuous walk, we filled our bellies with some very delicous Choris from one of the several street barbecues. These are easily manufactured by slicing a barrel in half from top to bottom to use one half for the coal and the other for cover added with a small chimney which makes the bbq look like a small locomotive when being carried around...
Absolutly delicious!!!